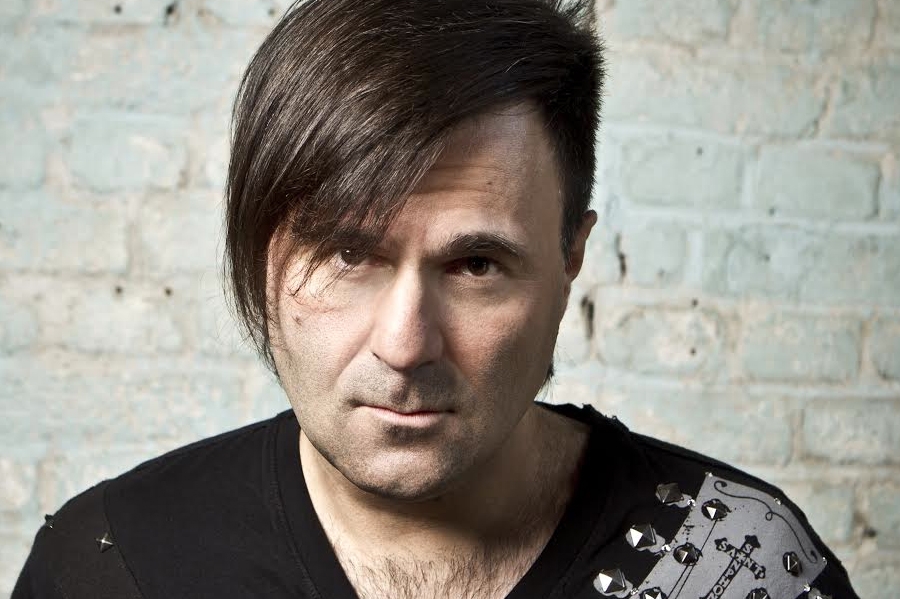 Jamie Lewis
After 25 successful years in the music business, the Swiss born Cem Berter aka Jamie Lewis, is recognized worldwide as one of the pioneers of house music and one of the scenes premier house music DJs.
1985 he first appeared on the Swiss club scene spinning classic disco and funk before getting wrapped up in the late-80s birth of house music, becoming one of the European scene's major players.
1987 he opened his own record shop Dee Jay Service in his city Winterthur, that became a mainstay of the Swiss & international DJ scene for 17 years.
Already a major player in shaping house music's future via his club presence, Jamie stepped in to the recording world in 1992, releasing his debut with the Italian UMM record.
Thanks to the success of his first records, he established his own label Purple Music in 1997, collaborating & remixing  officially influential artists of the disco, pop, and house music world scene like MidnightStar,Giorgio Moroder,Cerrone, Pino d Angio',BobSinclair, John Acquaviva, Etienne de Crecy and the best voices of the house music scene like Jocelyn Brown, Michelle Weeks, Michael Watford,Kim Cooper,Lisa Millett,Cynthia Manley)

In 2011 he start a collaboration with SUPERSTAR ICON PRINCE! Remixing 3 of his songs "Dance 4 me","2 NIte"(Bria Valente),"Rock and Roll Love Affair" releasing them  on PURPLE MUSIC as well as the song» Screwdriver". 
Jamie had the big honour to mixdown at the legendary "Paisley Park Studio »the Album PRINCE&3RDEYE GIRL "Plectrumelectrum" (Warner Music) & proudly received a GRAMMY AWARD NOMINATION this year for  PRINCE HIT N RUN PHASE 2 Album (as  best sound engineered Album)
Jamie's music has been released also by such important labels as the Defected, Ministry of Sound, Subliminal, Yellow, Malligator, Peppermint Jam, Clubstar, Universal ,BMG,and Warner.
In 1997 Jamie began a residency called Purple Music Nights at Zurich's nightspot Kaufleuten and in 2000 at Atlantis Club in Basel. Today he plays in the best house clubs of Switerland manteining the Basel residency at Bar Rouge.
Since over a decade  Jamie Lewis  maintained a consistent presence in the world's most important clubs, spinning for the legendaries Pacha (Ibiza, Madrid, Mallorca, London) ,El Divino (Ibiza - with summer 09 residency), Privilege (Ibiza), Nikki Beach and Shore Club (Miami), Cielo (New York), Dragon-I (Hong Kong), Hit and Vogue (Oporto), Queen and Mandalaray (Paris), Ministry Of Sound (London), Cavo Paradiso (Mykonos), Venue (Athens), Guru(Georgia), Barasti Beach(Dubai), Deep club(Geneva) and worldwide in the best spots of Australia, Austria, Bulgaria, China, Croatia, Germany, Emirates, Estonia, Italy, Luxemburg, Holland Norway, Poland, Portugal, Romania, Russia,Switzerland, Slovenia, Spain, UK, Ukraine, USA.
MUSIC & FILM FESTIVALS
He plaid in many big events worldwide like festivals, openairs and beach parties' incl. Arendal Festival(Norway), Southport Weekender (UK), Algarve Summer Festival (Portugal), Streetparade (Zurich) ,Cannes Film Festival(Sparkling club 2011)Montreaux Jazz Festival(2013 Groovelift Party)
AWARDS & AFTER  CONCERTS
2003 Jamie Lewis did the european  dj record playing 30 hours non stop(Zurich Kaufleuten)
2004 & 2005 UK house music awards (London)
Jamie Lewis label Purple Music and himself as producer have been nominated as best producer, best WMC Miami's 2004 & 2005 song with «The Light» & «Be Thankful» (feat. Michelle Weeks) and as best European breakthrough label.
2004 he plaid at the official after concert party of Madonna's «Re-Invention World Tour» in Barcelona and 2008 at the official after concert party of her «Sticky & Sweet Tour» in Zurich.
2006 IBIZA DJ AWARDS (Pacha Ibiza)
Jamie Lewis is the winner of the 9th Edition of the Ibiza's DJ Awards in the category «breakthrough DJ of the year».
2006 Jamie Lewis European record of 30 hours non-stop DJing at Kaufleuten Zurich
2007 main DJ at Cerrone's Concert at Olympia (Paris)
2008-2009 Nominated in the best top 10 swiss house dj @ SWISS NIGHTLIFE AWARDS
2010 Radio FG Awards Nomination in the best top 100 djs of the world
2011 Finalist in the top 3 best swiss djs  SWISS NIGHTLIFE AWARDS
2012 Nominated in the best top 10 house djs of Switzerland  SWISS NIGHTLIFE AWARDS
2013 His song with Cinthia Manley"SUNSHINE HOTEL" is nominated as "best dance song" of the year @ EOTM Awards in Los Angeles
2014 FINALIST BEST TOP 3 SWISS HOUSE DJ@SWISS NIGHTLIFE AWARDS
2015 Best top 10 Swiss house dj Nomination @Swiss Nightlife Award
2017 GRAMMY AWARD NOMINEE for PRINCE-HIT N RUN PHASE 2 Album(Best engineered Album)
MIXED CD COMPILATIONS & ALBUMS
Jamie Lewis mixed over 40  CD compilations and 3 own Albums during the past decade including:
«For you Album» ( 2002),all  volumes of the famous series «In the Mix» (Clubstar) «Mykonos»-CDs (Universal) since 2003 8(Purple Music 2013) ,all 9 volumes of «Purple Music - The Master Collections" (Purple Music), the famous UK series «Waxwars» in 2006 (WITH Simon Dunmore & Brian Tappert for Defected Record)& «In the house International» ,six volumes of «My Girlfriend is out of Town» (Purple Music)
«Cerrone by Jamie Lewis» Album (Malligator-Pias) featuring the best club hits of the French disco king all remixed by Jamie Lewi, FLASHBACK Triple Album(Purple Music) , PURPLEIZED Single album (Purple Music)
DEEP HOUSE VOL. 1( Purple Music) ,DEEP HOUSE VOL. 2 , SAY YES Album AKA Two Kings feat The Queen,& he selected the most successful digital compilations for Purple Music(Exclusive @Traxsource) Funk you(Various artists) & Dubs & Instrumentals(various artists)
Since 2014 many of hid productions that reached the top 10 or topped the  BRITISH,GERMAN, SWISS,AUSTRIAN, ITALIAN DANCE & DJCHARTS as well as top 5 @Traxsource  ("Respect" with Michelle Weeks, Natasha Watts & Marc Evans; "I m Lost" with legendary's MICHAEL WATFORD, COOOKYS 6, COOKYS 7 "Kraze "THE PARTY "Remix" ,F .Cofano ft Pino d Angio'"MA QUALE IDEA" Remix", "HarleY Jackmaster Funk & Giorgio Moroder" I WANNA ROCK YOU" Remix &"MIDAS TOUCH " remix of Midnight 
Actually his new Remixes of FIGLI DELLE STELLE & his new production DANCE WITH US with Michael Watford are rockin' worldwide
Purple Music Request Form
In order for us to process your request efficiently, please send ALL of the following information:
If you fail to give this information your request may not be processed or will be returned unanswered. The acts themselves need this to make a decision. We want to provide a good service with efficient response times. Please help us to do that by adhering to these rules.