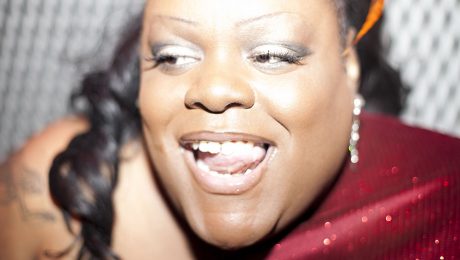 The Queen of the « Queen club » : Diva Avari originally from Boston: why did you move to the romantic & fashion city Paris ?
I used to model and work in the atelier for Boston Designer Geoffrey B. Small……I would come do the defile in Paris and each time it was harder too leave….
Boston is similar to Paris as it being a large city with a small village of people on the move; so I decided to pack my things and jump into the bigger pond. I also felt at home as if I knew Paris the first day I set foot….maybe in another incarnation?

Is it true that you start your singer and dancer career officially at Palace with David & Cathy Guetta parties?
Yes, I was actually a go-go dancer when I first arrived….it wasn't till I started to speak french that I could tell them I sing as well…..I did quite a few parties with the Guetta's at Palace & Les Bains Douches….I have many fond memories of that period of Parisian nightlife

1997 is officially the year of your first successful production"Lady Marmelade" (Patty Labelle cover)
What has been your most successful songs/ releases since then ?
I would say 2006- Don't Go was my first real commercial success……then 2017- was a very good year with Purple Music with Your Love, Rhythm is a dancer, and Live your Life. The dark horse has been Fuckin Bitch…..this song has been played over the world for the last 17 years and is the reason I'm so popular in Eastern Europe and Russia

A typical Sunday for Diva Avari is……..
Sunday is my day off to rest/recover from the weekend(if I go out) and also the day I take to make an occasional mix for my Soundcloud… I like to share different kinds of music with people.

Do you still like the nightlife in Paris ? which are your favourite place to go out?
Nightlife has changed so much in the last 23 years…….people aren't as open and fun anymore. Young people seem sad and/or aggressive sitting in groups texting on their phones. I want to shake them and say lighten up, put the phone down and enjoy your youth while you can. There are thankfully a few places where you can actually enjoy music and dance. I only go out for special occasions and two different parties form time-to-time; MONA , a house party with a disco floor and house floor with fierce voguing…….then there's  Madame Klaude a special disco ball. Both have all ages and a public that appreciates good music & vibes

Have you got any « life motto » ?
Actually have two!
1) Live Your Life in the moment
2) Be yourself because it's too tiring trying to be something you're not

We have released three great songs from you together with producer Samy K & The French House Mafia  how did u start your collaboration with  him/them ?
We were introduced in 2004 by 2 separate friends at Banana Cafe where he used to Dj and at Club News Records where he worked…..I had recorded Fuckin Bitch in Estonia with Dj Raul Saaremets in 2001 and had been trying to get it signed with Tony Humphries but it took so long to find time to actually make it happen so fate brought me Samy. While recording our first track " Feel the Chocho"…. I let him listen to it to see if he'd want to re-do it with me. Fourteen years later we're still going strong!

If you could live in another place of the world  where would it be and why ?
Good question……Paris is my home …..I'm too old to start over with another language lol.
But If I had to got back to the States…..I'd probably move to Chicago… I really like that city it's got a-lot of different cultural ethnicities and the nightlife is the bomb> I actually got to see Frankie Knuckles before he passed>>>it was a pure night of musical delight

where are you performing at the moment?
I perform all over the world… I just got back from 2 concerts New Years Night in Riga, Latvia.

what are your next projects?
Today, I'm in the studio with Samy for our next track. Next week, I'll be recording a commercial dance track with DJ Axel Bampton.
Coming soon The French House Mafia will produce a  duet with myself and disco diva Carol Jiani…..excited for that!